About Us
How do we stay small and sell big? It's simple: years of experience. At Battleground Tire & Wrecker, our mission is to offer you the latest in parts and products, at the best prices, and with unparalleled service. We pledge our best efforts to make your experience both beneficial and enjoyable. Once you try us, we're sure you'll be back for more!
Kirk's-Sineath Motor Company

Battleground Tire and Wrecker Service

Brief History of Kirk's-Sineath Motor Company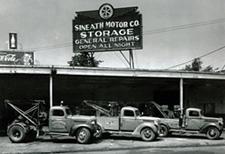 Sineath Motor Company was formed in 1925 by J.I. Sineath. The business was located at Battleground, Green and Bellemeade streets across from Central Fire Station in downtown Greensboro. The early tow truck consisted of T-Model trucks, the largest being a 1923 Buick Touring car fitted with a hand crank crane. The building housed a garage, body shop, sold gas, tires, batteries, and other auto parts. The wreckers were a necessity for bringing in wrecked and broken-down vehicles for repair or storage. They were staffed 24 hours, 7 days a week, as they are today. Mr. Sineath purchased a 1940 Ford truck new and had Ford Body Company install a new Holmes 515 Traffic King wrecker. The wrecker was stored in Uptown Storage until needed for use.
There were many wreckers put into use during this period, such as a beautiful 1932 Diamond T with a Holmes wrecker crane. The fleet continued to grow with a big Dodge with a Holmes wrecker and a large winch for heavy work. Also in use was the previously mentioned 1940 Ford along with a 1938 Ford with a Weaver crane. Storage was 50 cents for 24 hours and car wash for $1.00. Times and the value of a dollar surely have changed.
In 1941, J.I. Sineath died unexpectedly and his service manager, AT. Kirkman, was appointed administrator of the estate. Mr. Kirkman eventually bought the company and added the name "Kirk's" to create the current Kirk's-Sineath Motor Company. Mr. Kirkman and his wife, Hilda, ran the business in the same manner with much success. Because of growth, the land at the original location was sold and the wrecker service moved to Forbis and Hughes Street during the war years. Sometime around 1945 and 1946, a new garage and body shop was built at 420 Battleground Avenue and the business remained at this location until 1958 at which time a new garage was built at 419 Battleground Avenue across the street where it operated with much success.
Again, tragedy struck with the untimely death of Mr. Kirkman in 1960, which was a very sad time for all. The business closed for the funeral only one hour. Many friends operated wreckers and answered the phone during the funeral. The Kirkmans were well known in the area and had many friends and relatives. Their daughter, Gail Kirkman, then came into the business to help her mother operate the company as well as many loyal and dedicated employees to help. Mother and daughter successfully ran the business for many years.
Around 1966 Mrs. Kirkman and her daughter brought in Jesses Coltrane and Bruce Kirkman as partners. To help with office duties, Gail employed Becky Davenport and Judy Burnett. Becky remained with the company until 1999.
There were many experienced wrecker operators over the years. Those were A.W. Caudle, J.H. Coltrane, H.H. Crumbly and many more. Those that had aged out were made dispatchers or team leaders such as Vernon Spencer, who worked until his death. Many retired police officers such as Red Ford, L.H. Tillman, Bernie Ford, Hassel Johnson, a retired I.H.C. mechanic and shop foreman were also dispatchers. There were many good mechanics over the years, including Billy Perdue, Banks Gamble, and Jess Beal.
This company was a great training ground for many young people. Many stayed and many went away with much more knowledge. The 24 hour service requires much time and energy in which you have to be dedicated. The wrecker business has many challenges under adverse conditions. However, the victories are very rewarding.
At this point in time, things are very competitive and Mrs. Kirkman, Coltrane and Bruce Kirkman buy a large 40 ton military wrecker which was named "Big John" to go with the fleet of wreckers. This 40-ton was and still is a great asset to the fleet. We are now up to September 1966. The business moved ahead of the competition.
In the 1970s, Mrs. Kirkman retires and stays on the board until her death in 1977. Gail, Coltrane and Bruce Kirkman continue on although the elder Mrs. Kirkman is greatly missed by all. At this point, the Moores come into play. Coltrane has to retire for health reasons and Gail and Bruce Kirkman approve of Coltrane selling his interest to Jack Moore. The company continued to grow adding some new equipment. Gail then decides to retire and sells her interest in the business to Jack and Bruce Kirkman. Jack brings his son Phil on board to learn the ropes.
In 1978, Kirk's-Sineath buys land at 315 West Lee Street and builds a new shop and storage yard. At this point in time, the company has amassed many loyal employees such as Bruce Younts, Mike Boyles and others. Jack, Phil and Bruce Kirkman buy Cheek's Auto Parts. This is a good move for the company. Jack decides to manage the junk yard. At this point, Bryant Mclntyre becomes a partner. Now, Bruce Kirkman, Phil and Bryant run the towing side of the business. Jack and Phil decide to sell their interest in Kirk's Sineath and buy full ownership of Cheek's Auto Parts. Larry Davenport now buys in as his wife has already been employed here for many, many years. As the business expanded, the company buys acreage at 700 Patton Avenue. Then new facility was opened in 1993. Larry, due to declining health, sold his interest in Kirk's-Sineath to Bruce Kirkman and Bryant Mclntyre in 1997. The new facility continues to grow to this day!
In July 1998, Mclntyre and Kirkman sold the business to an out-of-state group of investors who had wrecker companies in a number of states throughout the country. The current owners purchased the business in 2004 and it continues to grow.

back to top
---
Brief History of Battleground Tire & Wrecker Service
Battleground Tire & Wrecker Service was started as Battleground Supermarket in the 1960s by brothers Robert and Tony Bowman. After some time Robert bought out Tony's share of the business and continued to expand the services offered. There were many years of hard work, long hours and sacrifice for Robert and his wife Betty, who worked from the startup of the business and are still employed today. In 1987, Steve Bowman became partner with Robert and the two continued to grow the business until 1998 when Steve bought Robert's half of the partnership becoming the second generation owner.
The business was and still is located on Highway 62 South just below the Alamance Battleground Historical site. The supermarket was combined with a Texaco service station. Along with the supermarket and service station, home heating oil delivery was provided. In 1970, the towing aspect of the company came about by accident as Robert purchased a wrecker for resale purposes. After a few months the truck had not sold and a need was realized for it to support the service station which included an auto/truck repair bay. The first tow truck was a 1966 Chevrolet with a 10 ton Stringfellow, which Steve Bowman still owns and has since restored. This was the first wrecker Steve learned to operate and continued its use until 2002. After a few years of learning the ropes of the towing business from the school of hard knocks, on-the-job-training, and trial and error, the business recognized a need for a more efficient way to tow cars and added a second wrecker in 1974, a Vulcan cradle snatcher. Along with towing, mobile tire service was added in 1972. In 1975, the repair business incorporated heavy equipment repairs creating a need for a larger wrecker, so a Holmes 600 was added. At the time this was one of the largest wreckers in the area. In 1984, the first of 5 tandem trucks was purchased, a 40 ton wrecker. With continued increase in growth and experience the small fleet grew to include two roll-backs, five service trucks, and 8 wreckers, including a 50 Ton DeWalt out of Texas. The company applied for and received ICC authority in the late 80's expanding its area of service nationwide. Steve saw the many advantages of air cushion recovery to minimize damage to customer equipment and loads so a set of airbags and trailer was added in the 90's, again keeping the company up-to-pace with some of the best and most technically advanced equipment in the area. Battleground over a period of time transitioned more to specializing in the towing, repair and tire aspect of the business and phased out groceries, gas, and home heating oil. In 1977, a new office, 6 bay shop, and 2 bay tire center was built across the highway from the original location. Battleground Tire & Wrecker is still located at the 6204 S. NC 62 Burlington address.
Battleground's history is rich with community support and involvement working with the State Highway Patrol, local rescue units, fire, police, and sheriff departments. Along with supporting local agencies, the company has continued involvement with towing associations such as the Towing and Recovery Association of America and the Towing and Recovery Professionals of North Carolina, and North Carolina Trucking Association.
The industry experienced many changes through the past nearly 40 years and Battleground has kept pace by upgrading equipment and training as it continued to serve the community with a dedication to quality and service. Through these years of growth and change, the Bowman family, Robert, Betty and Steve, have worked and sacrificed together to keep the business successful and more importantly reputable. After numerous successful years and working with many long-term loyal employees and customers, Steve sold the business in the fall of 2007 to the owners of Kirk's-Sineath, the oldest towing company in Greensboro. Combining these two companies created one of the largest and oldest towing companies in the state of North Carolina. The owners plan to continue to grow and expand the company. In late 2012 Steve retired from his position of general manager, but continues to be an active part of the towing and recovery industry in North Carolina. Unfortunately, in December of 2012 Steve's mother Betty passed away.